The 6th International Melanocortin meeting will be held in Utrecht, the Netherlands, from Thursday evening 8 July to Sunday 11 July 2010.
Utrecht is a pleasant medieval city in the center of the Netherlands. The conference site is located in the old center of Utrecht and most hotels in which rooms are blocked for this meeting are within walking distance from the railway station and conference site.
Similar to the 5th International Melanocortin meeting in Sunriver, Oregon 7 years ago, we aim to cover the melanocortin field broadly. Main players in the field have accepted the invitation to speak, and we are already looking forward to an excellent symposium,

The Organising Committee
Confirmed Speakers
Zalfa Abdel-Malek

(Cincinnati, USA)

Roger Adan

(Utrecht, Netherlands)

Greg Barsh

(San Francisco, USA)

Jens Bruning

(Köln, Germany)

Andrew Butler

(Baton Rouge, USA)

Jose Cerda-Reverter

(Torre de la Sal, Spain)

Li Chan

(London, UK)

Adrian Clark

(London, UK)

Anthony Coll

(Cambridge, UK)

Roger Cone

(Nashville, USA)

Jacques Drouin

(Montréal, Canada)

Joel Elmquist

(Dallas, USA)

Pablo Enriori

(Victoria, Australia)

Sadaf Farooqi

(Cambridge, UK)

Carrie Haskell-Luevano

(Gainesville, USA)

Johannes Hebebrand

(Essen, Germany)

Lora Heisler

(Cambridge, UK)

Pat Hinkle

(Rochester, USA)

Hopi Hoekstra

(Cambridge, USA)

Tamas Horvath

(Cologne, Germany)

Victor Hruby

(Tucson, USA)

Michael Humphries

(San Francisco, USA)

Ruth Loos

(Cambridge, UK)

Malcolm J Low

(Ann Arbor, USA)

Glen Millhauser

(Santa Cruz, USA)

Silvana Obici

(Cincinnati, USA)

Ravi Nargund

(Rahway, USA)

Richard Palmiter

(Seattle, USA)

Marcelo Rubinstein

(Buenos Aires, Argentina)

Rick Sturm

(Brisbane, Australia)

Christian Vaisse

(San Franscisco, USA)

Sharon Wardlaw

(New York City, USA)

Dominic Withers

(London, UK)

Ying-Kui Yang

(Birmingham, USA)
Main Topics
melanocortin genetics
melanocortin physiology
peripheral actions of melanocortins
human melanocortin genetics
melanocortin pharmacology

functional neuroanatomy of the melanocortin system
central actions of melanocortins
clinical studies with melanocortins
receptor structure function
Organising secretariat
Ria van Vlaardingen-Priester
Rudolf Magnus Institute of Neuroscience
Department of Neuroscience and Pharmacology
University Medical Center Utrecht
Str. 5.203
Universiteitsweg 100
3584 CG Utrecht, The Netherlands


+31 (0) 88 75 68810


+31(0) 88 7569032


h.c.vanvlaardingen@umcutrecht.nl

With the web support services of Azuleon Meetings.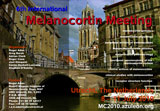 Preliminary announcement

Photo Gallery
NEW: a photo gallery with pictures from the meeting is now available. Access is only for participants; contact the secretariat if you have not received your access credentials.
Abstracts
All abstracts are now available [here]

Important dates
Registrations and Abstract
submissions
open


1 December 2009

Abstracts available on website


19 April 2010
Deadlines
Abstract
submissions


15 April 2010
Organisers
Roger Adan
Roger Cone
Scientific Committee
Roger Adan
Greg Barsh
Adrian Clark
Roger Cone
Joel Elmquist
Carrie Haskell-Luevano
Stephen O′Rahilly
Local Organising Committee
Roger Adan
Willem Hendrik Gispen
Ria van Vlaardingen