VENUE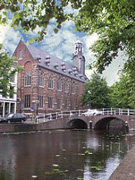 University Hall (back)
(Academiegebouw)
Utrecht is the fourth largest city in the Netherlands, with historic roots back to the Roman Empire. Utrecht hosts one of the bigger universities in the country (ranked 1st in The Netherlands, 9th in Europe and 47th in the world according to the Shanghai ranking), and with its historic centre and the many students it provides an excellent atmosphere. Utrecht is centrally located in the Netherlands, and has direct train connections to the major cities and Schiphol International Airport.
The city of Utrecht verges on the Utrecht Hills, de Utrechtse Heuvelrug, where beautiful estates, country manors and castles can be found.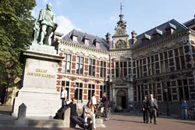 University Hall (Academiegebouw)
The well preserved medieval inner city of Utrecht, with its numerous courts of almshouses, intimate squares and populated canals, offers the visitor a varied palette of culture, leisure and nature. The city has a wealth of historical monuments. Quite outstanding is the more than six century old Dom tower. It is the highest church steeple of the Netherlands and, during certain hours, open to guided tours.
The multiple churches and monasteries, built in greatly different styles, remind the visitor of the strongly religious character of the city. Moreover, Utrecht is a city of museums, including the internationally renowned Netherlands Railway Museum, the national museum "Het Catharijneconvent", the Central Museum and the National Museum of Music Boxes and Barrel Organs.
The Utrecht visitors' centre for cultural history quickly helps the interested visitor on its way. Shops are located on the busy Oude Gracht--with its cosy outdoor cafés on the wharves and the typical basements--, on Oud Kerkhof, Steenweg and Hoog Catharijne. They are known for their excellent taste offering a wide range of products. Musical Centre Vredenburg and the Municipal Theatre provide high quality cultural entertainment and art. Another remarkable facet of Utrecht are the architecturally interesting buildings on Nieuwe Gracht.
One of the numerous bridges in Utrecht
Gracht: one of the famous
canals in Utrecht
Oudegracht
terraces and boats
Castle Oudaen
To many, the most important and cosiest attraction of Utrecht are the restaurants, studios and (outdoor) cafés along the canals. These can be found on the quays and wharves which were formerly utilised for making easy deliveries to the basements under the buildings along the canals. Today, these quays provide a daily gathering place to many visitors.

Ottone
More information on the city can be found here.
Ottone, the venue of the meeting, is a beautiful old building (former church) near the "Singel", the canal which encircles the city center. The conference hall combines a spacious setting with a warm and friendly ambiance.
Address: Kromme Nieuwegracht 62, 3512 HL Utrecht, The Netherlands
Photo Gallery
NEW: a photo gallery with pictures from the meeting is now available. Access is only for participants; contact the secretariat if you have not received your access credentials.
Abstracts
All abstracts are now available [here]

Important dates
Registrations and Abstract
submissions
open


1 December 2009

Abstracts available on website


19 April 2010
Deadlines
Abstract
submissions


15 April 2010
Organisers
Roger Adan
Roger Cone
Scientific Committee
Roger Adan
Greg Barsh
Adrian Clark
Roger Cone
Joel Elmquist
Carrie Haskell-Luevano
Stephen O′Rahilly
Local Organising Committee
Roger Adan
Willem Hendrik Gispen
Ria van Vlaardingen